Resso vs Apple Music – Which is Better Music App for Music Lovers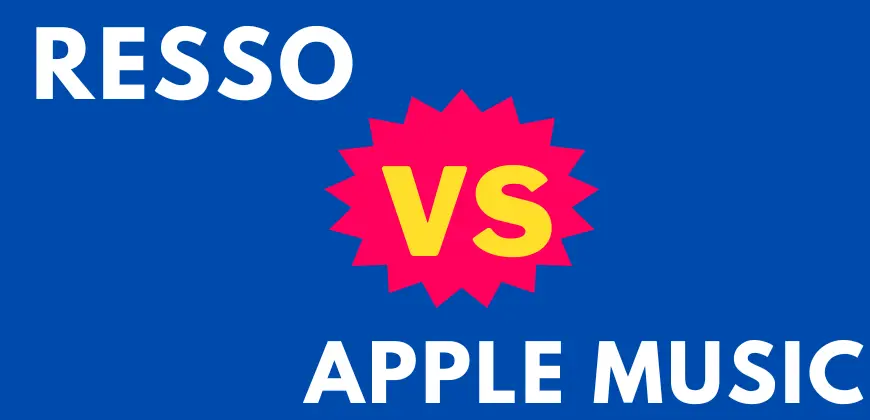 When it comes to the world of music streaming, Resso music app and Apple Music are two prominent players that offer a plethora of features to cater to the preferences of music enthusiasts. In this review, I'll be delving into the nuances of Resso and Apple Music, comparing their plan pricing, user interfaces, music libraries, audio quality, device compatibility, music discovery features, free trial periods, and sharing my personal experience to help you make an informed decision between these two platforms. Beside these popular apps you can also check full comparison of YouTube Music vs Amazon Music as well as Pandora vs Apple music in this website.
Resso vs Apple Music – Best Streaming Music Apps
In my review of Resso vs Apple Music, I found that both platforms have their unique offerings. Resso provides a vibrant and socially-driven interface, encouraging users to interact with friends through likes, comments, and music sharing. On the other hand, Apple Music boasts a clean and consistent layout, emphasizing album art and playlists.
Here are the following features who make the apps more attractive for the users:
Plan & Pricing – Student Discounts
When it comes to plan and pricing options, Resso offers competitive rates. With a premium version priced at just $0.72 per month and a family plan for $2.19 per month, Resso stands out as an affordable choice. Apple Music, however, provides individual plans at $5.99 and family plans at $16.99, and it exclusively offers student discounts.
User Interface – Attractive User Experience
In my experience, the user interface is a pivotal aspect. Resso provides a visually appealing and interactive interface that's perfect for those who enjoy engaging with their music and friends. On the contrary, Apple Music presents a sleek and organized interface, with a focus on presenting album art and playlists in a user-friendly manner.
Music Library – All Categories
Both Resso and Apple Music offer extensive music libraries, catering to a wide range of music genres and tastes. Resso boasts a collection of 70 million songs, predominantly focusing on mainstream tracks. Meanwhile, Apple Music takes the lead with approximately 75 million songs, including exclusive content and a diverse range of genres.
Audio & Sound Quality
When it comes to audio quality, both platforms deliver excellent results. Resso offers Normal and High-quality audio options. Apple Music, however, offers a more varied selection, including Dolby Atmos and CD-quality audio, providing audiophiles with a range of choices to suit their preferences.
Integration & Compatibility with Other Devices
Based on my experience, device compatibility is a crucial factor. Resso is accessible on Android, iOS devices, and web browsers, making it a versatile choice. On the other hand, Apple Music is exclusively available on Apple devices, which might limit its accessibility for Android users.
Music Collection & Discovery
The ability to discover new music is a significant aspect of any music streaming platform. Resso's "Vibes" feature curates playlists based on user mood, and its social feed fosters music discovery through friends. Apple Music's "For You" section, based on user history and preferences, offers personalized playlists and album suggestions.
Free Trial Periods
Both platforms offer free trial periods to entice users. Resso provides a 14-day trial with access to premium features, allowing users to explore its offerings. Apple Music, however, takes it a step further with up to 6 months of free trial for premium subscriptions, giving users ample time to experience exclusive content.
Personal Experience
In my review, I found both Resso and Apple Music to have their strengths. Resso's lively interface and affordability make it a great option for Android users seeking a socially integrated music experience. On the other hand, Apple Music's robust library, diverse audio quality options, and exclusive content cater well to Apple device users.
FAQs
Conclusion
In conclusion, the choice between Resso and Apple Music boils down to individual preferences and priorities. Resso's engaging interface and affordability make it a standout choice, particularly for Android users. Meanwhile, Apple Music's extensive music collection, diverse audio quality options, and exclusive content are tailor-made for Apple device users. Whether you lean towards social interaction or a premium audio experience, both platforms offer something unique to enhance your music streaming journey.