Pandora vs Apple Music? Which Platform Offers Best Services
In this music world, most of us prefer best and for most popular music apps to enjoy listening. Pandora and Apple music both are the famous music streaming apps like Resso and spotify with their best features. Pandora vs Apple music will briefly discuss with full comparison in this article. Let's move on!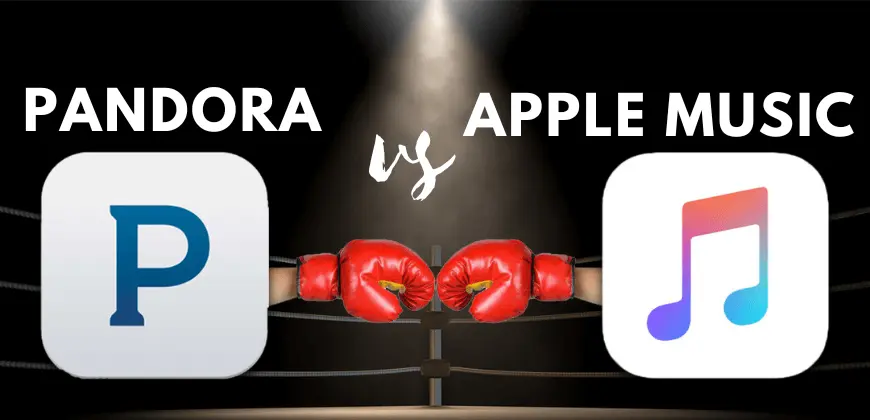 In the ever-evolving landscape of music streaming services, Pandora and Apple Music stand as two prominent contenders, each with its own unique offerings and features. Furthermore, Resso is also in comparison of these two stunning apps. This article aims to provide an in-depth comparison between these two platforms to help you make an informed decision based on your music preferences and requirements. A plenty of music apps were developed for the music lovers both for android and iOS. You can read fully detailed features of the app and go with your favorite ones. Here you can get complete details of Resso vs Apple Music and SoundCloud vs Deezer music app as well as your favorite YouTube music vs Amazon music. Enjoy with any of them to make your days awesome.
Pandora vs Apple Music – Which is Better Streaming App?
Both of them are unique and popular due to its unique features and user loving content. A full comparison, which service offers best services for the users.
What is Pandora Music App?
Pandora, a pioneer in the music streaming world, is renowned for its personalized radio stations. It employs an algorithmic approach to curate playlists based on your music tastes, making it a go-to choice for those seeking tailored music discovery.
What is Apple Music?
Apple Music, on the other hand, is Apple's offering in the music streaming arena. It boasts an extensive music library, exclusive content, and a seamless integration with Apple devices, providing a holistic and feature-rich experience for music enthusiasts.
Pandora vs Apple Music – Full Comparison Table
| | | |
| --- | --- | --- |
| Aspect | Pandora | Apple Music |
| Music Collection | Curated playlists | Extensive library |
| Music Recommendation | Algorithmic stations | Curated playlists |
| Music Quality | Standard quality 64kbps for free users, 192kbps for Pandora Plus and Premium users | High-quality audio 256 kbps in AAC |
| Subscription Plan | Free and premium tiers | Individual, family, student |
| User Interface | User-friendly layout | Intuitive and sleek design |
| Compatibility | Limited to devices | Apple device integration |
| Music Library | Over 40 million music tracks | Over 75 million music tracks |
Features of Pandora and Apple Music
Some of the key features of both music apps:
Music Collection
Pandora emphasizes personalized radio stations, while Apple Music boasts an impressive range of songs, albums, and genres.
Music Recommendation
Pandora's algorithmic approach tailors playlists, while Apple Music offers curated playlists for varied preferences.
Music Quality
Apple Music provides high-quality audio, offering a premium sound experience compared to Pandora's standard quality.
Subscription Plans
Pandora offers free and premium options, while Apple Music provides individual, family, and student plans catering to diverse needs.
User Interface
Pandora offers a user-friendly interface, while Apple Music's design is intuitive and aesthetically pleasing.
Compatibility & Integration with Other Devices
Pandora's compatibility is limited, while Apple Music integrates seamlessly with Apple devices.
Library Size
Apple Music boasts a larger library, appealing to a wider range of music enthusiasts.
Free vs. Paid Subscriptions of Pandora and Apple Music
Both services offer free and paid subscription tiers. Pandora's free version includes ad-supported streaming, while Apple Music's free trial lasts for a limited time. Paid subscriptions grant ad-free listening, offline playback, and additional features.
Pandora Music Subscription Plan Details
Apple Music Subscription Plan Details
Restrictions on Free Membership of Pandora and Apple Music
Pandora's free version is ad-supported, and users cannot select specific songs on-demand. Similarly, Apple Music's free trial offers limited access to on-demand songs and features.
Premium Membership Benefits of Pandora and Apple Music
When it comes to enhancing your music streaming experience, both Pandora and Apple Music offer premium subscription options that come with a range of enticing benefits. These premium memberships unlock a new level of convenience and enjoyment, allowing you to fully immerse yourself in the world of music. Let's explore the premium membership benefits of both platforms:
Pandora Premium Membership Benefits
With Pandora Premium, you have the power to listen to specific songs and albums on-demand. This feature gives you the freedom to choose exactly what you want to hear, when you want to hear it.
One of the most convenient features of Pandora Premium is the ability to download your favorite songs and playlists for offline listening. This is especially handy when you're on the go or in areas with limited internet connectivity.
Say goodbye to interruptions. Pandora Premium ensures an ad-free listening experience, allowing you to enjoy your favorite tunes without any interruptions.
With Pandora Premium, you can skip as many songs as you want. This means you can quickly move through songs until you find the perfect track for your mood.
Apple Music Premium Membership Benefits
Apple Music's premium membership opens the doors to its vast music library, giving you unrestricted access to a wide range of songs, albums, and genres.
Enjoy expertly curated playlists tailored to your music preferences. These playlists help you discover new music and keep your listening experience fresh.
Apple Music delivers high-quality audio, providing a superior sound experience that allows you to appreciate the finer details of your favorite tracks.
Apple Music offers exclusive content that's not available on other platforms. This includes early releases, special tracks, and behind-the-scenes insights from your favorite artists.
If you're invested in the Apple ecosystem, the premium membership of Apple Music seamlessly integrates with your Apple devices, ensuring a cohesive and streamlined experience.
Account Creation Steps of Pandora and Apple Music
Creating an account on both platforms is straightforward. For Pandora, visit the website or download the app, sign up, and choose a plan. For Apple Music, use your Apple ID to sign up, choose a subscription, and start exploring.
Pros and Cons of Pandora Music
Pros and Cons of Apple Music
FAQs
Conclusion
In the Pandora vs Apple Music debate, the choice boils down to individual preferences. If personalized radio stations and a user-friendly interface are your priorities, Pandora might be the way to go. On the other hand, if you value an extensive music library, curated playlists, and seamless integration with Apple devices, Apple Music could be your ideal choice. Make your selection based on your music habits, device ecosystem, and desired features, and enjoy the immersive world of music streaming.